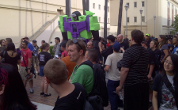 The Super Festival 66 is currently taking place in Japan, and via Taghobby, where some exclusive Japanese Transformers have been shown off

First up are the Million Publishing exclusives, Shouki and GoShooter, who are mail in exclusives for Transformers Generations 2014 Volumes 1 and 2 respectively. They are homages to characters from Headmasters and Masterforce, the Japanese Generation 1 shows, and both feature Mini-Con / Targetmaster partners.

Next up are a couple of new images of the fourth set of Transformers Cloud releases. For the fourth releases in the Transformers Cloud line, Generations Roadbuster is getting a repaint as Energon Ironhide aka Super Link Roadbuster, while Generations Sky-Byte is sporting a Skywarp redeco as Hellwarp.