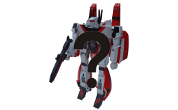 The Allspark have posted a list of "rumoured" new Asian exclusive Transformers figures which can be viewed below.

Platinum Edition Ultra Magnus: This is the Weaponiser version of Prime Beast Hunters Ultra Magnus and is a remould of the Weaponiser Optimus Prime released last year.
Platinum Edition Grimlock Vs Bruticus: A set containing the Fall of Cybertron releases of Voyager Grimlock and Bruticus.
Platinum Edition Classic Predaking: This is expected to be a G1 Predaking reissue
Platinum Edition CNY (Chinese New Year) RID Ultra Magnus: A recolour of the RiD / Car Robots Ultra Magnus.
Platinum Edition CNY Supreme Starscream: Expected to be a recolour of the Supreme class Starscream figure from Cybertron
ACG HK Con Metroplex: An exclusive at Anime-Comic-Game Expo release.
Cybertron Con Shockwave's Lab:Most likely a Cyberverse playset
Cybertron Con Beast Hunter Optimus Prime:
Since the announcement, Marcelo Matere has tweeted that he worked on the box art for some of the upcoming exclusives.