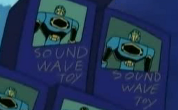 Dixon's have announced their top tech toy wish-list, which is based on its latest online pre-orders and sales data. Toy robots dominate the top 10, with Transformers making the list, but Dixon's report that video games favourites such as the Nintendo DS are remaining popular.
"Toys are not stuffed with cotton wool anymore, they are stuffed with technology," said Pat Foley, head of marketing and operations at Dixons.co.uk.

"There is a whole generation of tech-savvy kids out there, and toy makers have tapped into this to make this a truly hi-tech Christmas.

"Robots will be very popular this Christmas as are toys relating to the big blockbuster movies out this year such as Spiderman, Transformers and High School Musical," he said.
Here is their top 10
1. Sakura Robot £49.99
2. Spidersapien Robot £69.99
3. Transformers Voice Changer Helmet £29.99
4. Disney's High School Musical Dance Mat £24.99
5. Furreal Friends Parrot £69.99
6. Bladerunner Infrared Indoor Helicopter £29.99
7. Spiderman Laptop £24.99
8. Nintendo DS Lite £99.99
9. Barbie Laptop £19.99
10. Teksta Robotic Puppy £39.99