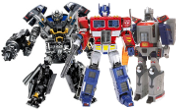 The official announcement of the winner of the Fans Choice Masterpiece competition will be announced live via YouTube in a little over 2 hours and 20 minutes but the results have already been confirmed in the latest issue of Figure King magazine (via taghobby). 86.9% of the votes made up the top 5 positions. The end results were:
1.STAR SABER - 31.2% of the vote

2.CONVOY(Micron Legend AKA Armada) - 24.3% of the votes
3.SUPER GINRAI - 18.5% of the votes
4.DAI ATLAS - 8% of the vote
5.SUPER FIRE CONVOY( R.I.D Optimus Prime) - 4.9%
6.CONVOY(Beast War Optimus Primal)
7.GALAXY CONVOY (Cybertron Optimus Prime)
8.BIG CONVOY
9.LIO CONVOY
10.GRAND CONVOY (ENERGON Optimus Prime)
So it looks like fans of Transformers Victory will be their wish of a Masterpiece. With Star Saber winning this does increase the chances of a Victory Leo Masterpiece figure also being made.