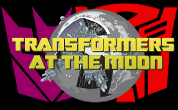 Welcome to day 9 of our 17 day commemoration of the website's launch. Today we shall take a look back at the year 2007.
This year was a little in limbo as fans geared themselves up for the Transformers Live Action Movie. Transformers Cybertron continued and the fan favourite Transformers Classics line was introduced.
Click the headline to read this article in full.