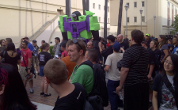 Auto Assembly 2013, Europe's largest Transformers Convention, starts tonight in Birmingham, UK.
The event spreads from Friday night to Sunday afternoon featuring various stalls and dealers from not just the UK, but throughout the global, Comic guests (past and present), Voice Actors and established Authors.
This years show features the first Exclusive figure for the convention, Manuel X.
We hope to see many of you there