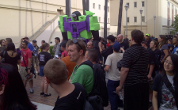 Below you will find some photographs, vidoes and news coming out from Hascon which is taking place from today in the US.
The Full Force Podcast
The Full Force team have taken some Facebook Live videos during the VIP early bird period around the area, which is why there are not many people around, but it gives you a good idea of what is currently on display at Hascon
Hascon Map - https://www.facebook.com/TheFullForce/photos/a.906272296117055.1073741850.473210869423202/1482642608480018/?type=3
Transformers Area - https://www.facebook.com/TheFullForce/videos/1482777961799816/
G.I.Joe Display Area Video - https://www.facebook.com/TheFullForce/videos/1482757308468548/
General Floor Video - https://www.facebook.com/TheFullForce/videos/1482775168466762/
Marvel - https://www.facebook.com/TheFullForce/videos/1482805791797033/
Star Wars - https://www.facebook.com/TheFullForce/videos/1482820081795604/
Seibertron
Seibertron has a report from the Transformers panel which revealed the Power of the Prime Dinobots and their combined form Volcanicus along with Orion Pax. The images can be viewed after the jump.
TFW2005
TFW has posted some images of the toys that are on display at Hascon along with some more details from the panel.
Twitter
Check out the latest photos on Twitter here.
Instagram
Monizmischeif has taken a photograph of the upcoming Generations Autobot Jazz figure which you can view after the jump whilst garret_sander has taken a collection of photographs of the 2-up G.I.Joe figures
Transformers Panel Notes
Thanks to TF2005
Kids Toylines
Each panelist stated their favorite Transformers toy.
Transformers Movie Line for kids
Discussing movies toys. Showcasing Allspark Tech.
Behind the scenes of Movie line.
Discussing the Transformers: The Last Knight toys now.
Hasbro worked with Takara Tomy on the TLK toys for the Armor Up Turbo Changers line.
Transformers: Robots In Disguise
Discussing Robots In Disguise toys now. We'll update if there's anything new that will pop up.
Explaining Combiner Force. Inspiration came from designers love for combiners and the Generations revival of the feature was the key.
Lots of thought process went into RID Combiner Force. a looooong explanation.
Generations
Prime Wars Trilogy info now.
Micronus goes into Cloudburst decoy armor.
New art of Optimus Primal being shown
Lots of artwork show. We'll upload them all.
Dinobot Slash, Female, Legends Scale
Deluxe Slug – G1 Accurate.
Voyage Grimlock
All the Dinobots look great. [Awesome!]
History of the Dinobots.
Dinobot Combiner name – Volcanicus
Will have rocker ankles, New technology incorporated
New combiner technology with better joints.
Leader Optimus Prime now.
Orion Pax into G1 prime. Very much like Hot Rod to Rodimus (as seen during SDCC)
Prime's trailer is part of bot mode now, not just cab.
Hascon 2017 Exclusives
Talking about Hascon 2017 Exclusives now.
Arcee first.
Predaking teaser shown. NYTF exclusive figure.
Panel Over!!!
Q&A Time
There will be Dinobot variants / Repaints down the line.