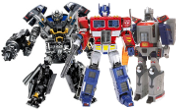 You read that right, the "thus far" Japanese Exclusive Transformers Masterpiece Grimlock is now available in the UK† .............. well kind of.
HMV are offering the toy as part of their Pure HMV campaign, so if you rack up 120,000 points on an HMV card the Dinobot commander could be yours.
You can see the HMV listing here, information on the card here and the original spot on The Allspark.