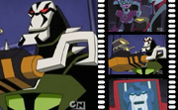 We have uploaded an image gallery containing 444 stills from Transformers Robots In Disguise Season 2 Episode 3 which featured the return of Steeljaw, Kickback as well as the introduction of Glowstrike, Scorponok and their "insecticon" / Decepticon crew.
You can view the images within the gallery linked above or after the jump.
The episode also saw reuse of various Transformers designs from both Robots In Disguise as well as Transformers Prime.