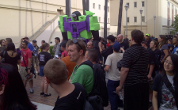 Here comes some updates for the German Transformers Convention C.O.N.S. 4 that takes place this sunday at Haus Seerose in Nettetal-Lobberich in Germany.
Each C.O.N.S. has its own exclusives and the 4th is no different. This time we have three exclusives for you. Just like last year you can get your own C.O.N.S. T-Shirt made live on location with the NTF-Archive logo and date. There's also a key chain with the same details. This year's highlight is our C.O.N.S. 4 coffee mug, though, featuring the printing "C.O.N.S. 4 - The German Transformers Fan Convention - July 22, 2012" and the NTF-Archive logo on the back. The T-shirt's price is 18 Euros, the mug is 7.50 and the key chain is 5.00. You can buy these items as well as many others such as printed shopping trolley tokens, mousepads, and buttons at the stand of Bedruckshop Sulz. Everything is made live on location and for little money.
Thanks to our special guest Klaus Scherwinski we have yet another C.O.N.S. exclusive. It's a post card with Klaus Scherwinski's All Hail Megatron artwork on the front. This post card will be a free give-away at C.O.N.S.4 and won't be available anywhere else. On the other side you'll see the NTF- and C.O.N.S. logo. This post card has been approved by IDW comics, making for a one-of-a-kind exclusive. Many thanks to Klaus Scherwinski and IDW!
Front:
Back:
Here comes the days program:
10.30 am Admittance for the participants of the Cosplay-, Custom- & Fan Art contests
11.00 am General admittance
11.15 am Opening song by Rampage
11.30 am Official welcome
11.45 am Cosplayers show
12.00 pm 4Connect Tournament
12.30 pm Kre-O competition at Starblight Booth
12.35 pm Klaus Scherwinski live
01.00 pm Live script reading by Simon Furman
01.30 pm Interview with Andrew Wildman, Klaus Scherwinski & Simon Furman
02.30 pm 1st raffle with Klaus Scherwinski & Raymond-T
03.15 pm Autograph Time
03.30 pm ReGeneration 1 Tour with Simon Furman & Andrew Wildman
04.30 pm Rampage live
05.30 pm Andrew Wildman determines winner of the Kitbash contest
05.35 pm Announcement of the kitbash & contest winners
05.40 pm 2nd raffle with Simon Furman & Andrew Wildman
06.00 pm Thank Yous & Goodbyes
And here a look on this years Booklet.
Front:
Inside:
Back:
We're looking forward to your participation and a great convention!
Source for all infos and news can be found here: ntf-cons.de