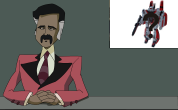 We have found some new Transformers related trademarks filed with the USPTO by Hasbro Inc. The trademarks are:
You can view all of the details of these and other trademarks within our exclusive Trademark Application area of the website which features trademark applications from 1984 through until the present day.
Whilst this doesn't guarantee any intent for a new toy or character using the name, Hasbro often file for Trademarks to help protect IPs, it is an indication of Hasbro's continued USPTO application activities which often take place at this time of year.

For those wondering the previous application for the mark OVERRIDE was in October 2003 with Hasbro last filing a "Combined Declaration of Use & Incontestability" in November 2010 against that mark.

With a lot of the marks coming up for their 5 year renewal, or 5 years since their last renewal, I expect to see a lot more applications for older marks over the coming months.