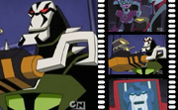 FlickeringMyth.com have posted a transcript of the Digital Fronts session held yesterday, in which Transformers: Combiners Wars was covered.
The series is set to consist of 8 episodes and will debut in July.
Below is the summary of the series
Taking place 40 years after the great war on Earth, Transformers: Combiner Wars introduces new lore and all-new characters that, combined with the characters fans have known for decades, will bring the Transformers storytelling in a new direction.
The Autobots and Decepticons have disbanded and returned to Cybertron. With the days of Optimus Prime and Megatron over, Cybertron is now ruled by a triumvirate. However, an ancient technology has enabled a new threat, the power for multiple Transformers to combine into one massive, dangerous form: Combiners. Who will stand-up to this threat to ensure that the fragile peace that was 4 million years in the making remains?