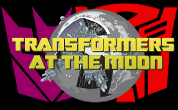 Transformers at the Moon celebrated it's 13th anniversary over the last few days, after officially being online since the end of October 1999. Back then the internet was a much different place. Many of the more popular Transformers websites around now didn't exist. There was no TFW2005, no Seibertron, no TFWiki. Images of Transformers mainly consisted of grainy pictures, standing on tables. We introduced a concept of photographing our Transformers Toys against a white card background, so the figure showed out more, and we knew which images were ours. This plain white background became the mainstay of most Transformers photography for the following decade, and even now many sites still use clear white backgrounds - whilst others have moved onto black or diorama sets.
As our site has grown and trailed off over the 13 years, we've been pleased to bring unique features such as our Trademark Database, UK Store Finder and large Transformers toy resource. Other, less documented, areas of the site include our Beast Wars II Cartoon image gallery. Cartoon concept art, prototypes and design work and of cause our Lucky Draw Collection and resource.
Though the site is a shadow of it's former glory, in terms of updates and visitors (due to "real life commitments") our passion for the toy line we love, and website which we dedicated so much time to continues. Our plans for future concepts and features drive us forward, as we look to bring you something unique and exciting.
We hope you choose to stay with us, and recommend looking though the vast resource of information we have here for you to read through and look at.