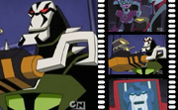 Transformers: Robots In Disguise Season 2.5 is scheduled to air on Cartoon Network here on within the UK on November 5th at 7:00AM.
Transformers: Robots In Disguise
From Saturday 5th November, airs weekends at 7am
Years after we left the Autobots in "Transformers Prime" Bumblebee is summoned by Optimus Prime to save Earth from a new faction of Decepticons. Bumblebee assembles a rogue team of young Autobots including a COOL REBEL "BAD BOY," an ELITE GUARD CADET, a BOMBASTIC DINOBOT and a hyperactive MINI-CON to chase and capture their new enemies. Each new BOT is a fully capable action hero, but relatively inexperienced in working together in a team. Thus Bumblebee finds himself needing to be equal parts squad leader and coach. Every episode is packed full of action, adventure and comedy as Team Bumblebee strive to complete their new mission.