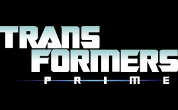 Panini have announced, via their website ­Panini Online, the release of a Transformers Prime themed sticker album. Here is a copy of the announcement­:
Panini are proud to announce the release of their fantastic and eagerly awaited Transformers Prime sticker collection!
It has been a while since the decepticons last attacked Earth and the Autobots await their return. While befriending some human teenagers, the Autobots fight to protect the Earth from the Decepticons and the return of Megatron, who has been missing for three earth years. With the possession of dark Energon, Megatron plans to use this as a way to defeat the Autobots. Experience the thrills of the new series in this fantastic Panini sticker collection! Collectors will be able to enjoy collecting fantastic new and exciting stickers from this must-have sticker collection. Get collecting now!
There are 210 stickers to collect with 30 special holographic glitter stickers to look out for!
Starter Packs: £1.99 (Including an album and 3 sticker packets).
Sticker Packets: 50p (Including 5 stickers per packet)