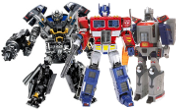 Our thanks once again go out to Pete Brown who has spoken once again to the manager at his local Toys R Us regarding their Transformers listings and following on from yesterday nights news we can now reveal that Transformers Generations Metroplex is set for a UK release as a Toys R Us exclusive later in the year!! Yes, you read that right, the big man is coming to UK high streets!
Pete also let us know there are two assortments of Dexlues and more legends class figures also listed within the Toys R Us computers More news. Just been on phone to manager at toys r us. Titan class metroplex is in their computer as well as two assortment of deluxe and more legends class. Again all tru exclusives. More info to follow on Tuesday hopefully all as TRU exclusives!! Who will they be? Well stay with us as Pete hopes to be able to bring us all further updates on Tuesday.
No street date is currently known for Metroplex, though he is due out in August within the US and the fact that he is already listed does suggest that the UK should not be too far behind.