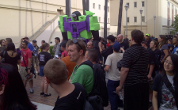 A Roll Out Roll Call has finished and the UK is now without another Transformers show until TFNation next August (which gives everyone time ot save some pennies again). RORC was a blast one again for us as we both love Transformers, G.I.Joe and Masters of the Universe so there is always something going on that we want to see. Now this year was the first time that a representative from Fub Publications appeared at the event in person, that person being Pete Sinclair who appeared via Skype last year. Having Pete at the show was great for both the Transformers and Joe brandns in the UK as attendees got to ask him questions over the weekend as well as listen to not one but two panels. During those panels some details were revealed directly, or indirectly regarding some of Fub Publications upcoming plans. Below you shall find a small summary of thhe key points.
1. They hope that the trouble regarding booking from this years shows are over as they haved changed host and IT solutions contractors.
2. The theme for next years Botcon was revealed during the show prior to the Facebook/Twitter announcement as an exclusive (which was a nice touch). The theme is Beast Wars and is a homage to their own previous Botcon set which featured the Maximal team prior to arriving on Earth with next years set being DAWN OF THE PREDACUS and featuring the Predacons. The first figure was also revealed at the show as being Ravage. It will be a combiner was set with 5 new head sculpts (including the combined form) for the box set. The set was going to be a Beast Wars theme but it was then changed to become a Combiner Wars theme more recently. A mockup of the Ravage figure was on display during the show with a low quality head sculpt.
3. Next years Botcon set shall have the most amount of new heads out of any set.
4. Hasbro, currently, want Fub Pub to work closer with them and the product that they are putting out at Retail, hence the Combiner Wars theme.
5. Pete once again stated that there will probably be no Animated themed Botcon Box sets again in the future however TFCC and show-exclusive twin pack figures may be an option
6, Hasbro want to try to engage more with their non-US fans as well as US fans in general. Fun Pub are also looking at ways to try to improve "things" for non-US based fans. Europe and Japan were specifically mentioned but Pete was referring to spreading their global fan-base / membership
7. Subs for the new Collectors Club figures are up on the previous year
8. There will be more Pretenders coming in the future. He was kinda tricked into revealing this through some clever questioning
9. Pete mentioned that the 2018 Botcon theme is alreadty set and that they were still finalising the 2017 theme. This seemed to be missed by most of the audience.
10. More Joe/TF cross-overs will be coming. One of the characters from the "90s themes comic set" was revealed at the show which was not planned.
11. Pete showed off some more plans that did not make it, so different ones to the Botcon panel as these had a more European Centric feel. There were lots of groans but it did give him feedback on how differences between the US and European collectors regarding cerrtain characters.
12. Joecon information shall be announced soon, though they are in full Botcon mode at the moment. The location wasn not revealed but hints included that it was somewhere new, where Pete had never been before, and that landmarks would give it away.