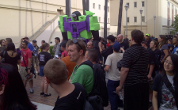 So BotCon had several panels yesteday, so here's a round up
Hasbro Panel
This presentation showed off some of the toys for the Fan Subscription service 3, as well as talking about production problems with Scorponok from this years BotCon set.
Rescue Bots
Rescan Dinobot Optimus Prime
Rescan Dinobot Bumblebee
Rescan Dinobot Blades
Dinobot Chase
Dinobot Boulder
Optimus Primal

Hero Mashers
Soundwave
Slug (as dinosaur)
Electronic Optimus Prime
Electronic Grimlock
2-Pack with Bumblebee and Strafe
Kre-o
Custom Kreons Strafe, Slug, Grimlock and Scorn
Grimlock Unleashed set (out at retail currently)
Free TRU promo item Father/Son Building Event June 28th with Optimus and Grimlock
Universal Evac 4-Pack with Optimus Prime, Bumblebee, Evac, and Megatron (Fall 2014)
Age of Extinction
Power Battlers Wave 3.0
Grimlock
Galvatron
Slug
Snarl (not in movie)
Lockdown
Power Battlers Wave 4.0
Vehicon (not in movie, based on the black car from the movie sets)
High Octane Bumblebee
Junkheap (Waste Management truck)
Helicopter Drift

1-Step Changers
Galvatron
Slug
Decepticon Steeljaw (wolf character from movie)
High Octane Bumblebee

1-Step Changers Wave 4.0
Strafe
Chevy Rally Car "Rollbar" (not in movie)
G1 Prowl
ROTF Megatron
Age of Extinction Generations
Lockdown (with gun face)
Wave 3.0
Deluxe Bumblebee
Snarl (not in movie), fins separate and combine with his tail)
Hot Shot from the Crosshairs mold (designed to look liek Tracks)
Leader 2-Pack
Grimlock with Optimus
Prime with different deco (fall 2014)
Autobots United 5-Pack with Optimus Prime, Bumblebee, Crosshairs, Hound and Drift
Breakout Scene 3-Pack: white Optimus Prime (Farmageddon), Rollbar, and Deluxe Crankcase

SDCC Exclusives
G1 Dinobots set with Strafe, Grimlock, Slug, and Snarl (Hasbro working on Sludge and Snarl in G1 colours)
Matthew Reinhart designed the pop-up set. Unfolds in 1 move.
Till All Are One Tour Pack: War was started by break-up of this band.
Tour posters, back stage pass, stickers, and more!

Legends Wave 4.0
Nemesis Prime with Spinister
Cliffjumper (with new head) with Suppressor

Deluxe Wave 5.0
Chromia (new bike mold)
Arcee as G1 car
Voyager Brainstorm (Headmaster)

2015 Preview
All-New Packaging Style specifically for Generations
Legends Voyager and Leader itesms include character specific collector cards, deluxe items include full color comic

Legends Wave 1.0
Powerglide
Thundercracker
Windcharger from the Tailgate mold
Bombshell
Voyager Optimus Prime (not based off an actual truck)

Leader 1.0
Megatron Tank looks like his G1 self, G1 cartoon torso, has working rubber treads, sticker sheet, can make Autobot Megatron
Armada Megatron (looks like remold from Megatron)
Planning to make more Generations Leader Class
Masterpiece
Sideswipe
Bluestreak (in Takara colors from original Masterpiece release)

Deluxe not shown ... 16 coming
4 Legends shown, 7 coming

Generations 2015
Theme- Combiners, a silhouette of Superion was shown