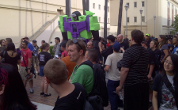 The Cybcon team have annouced the following regarding their 2007 convention.
"Greg Gaub and his merrymakers doin' it again this year, hosting The Cybertronian Conference of 2007, the Pacific Northwest's own Unofficial Transformers Collectors Convention. You can call it CYBCON 2007 for short. Continuing the tradition set last year, CYBCON 2007 will take place at the King Oscar Motel and Convention Center Tacoma at 8820 and 8726 South Hosmer, Tacoma, Washington 98444, this July 14th starting at 10am.

Like last year, CybCon 200y will cover a vast 75'x39' room, pushing 3000 square feet of Transformer collecting fun! As always, there will be dealers, contests, games, videos, and fun for all ages. We're continuing the Kid categories for the contests and will offer a place to showcase Transformers art.

Everything you need to know to register for CYBCON 2007 can be found here: http://www.ggaub.com/tf/cybcon2k7.html."