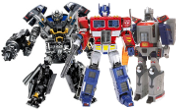 Hasbro and Xiaomi, a large electronic comany in China, have teamed up to create this Xiaomi Mi Pad 2 which transforms to Decepticon Soundwave.
"Xiaomi and Hasbro are collaborating for the first time crowdfunding a kickass robot model named Soundwave in China. Instead of a vehicle transforming into a robot, this time, it's Mi Pad 2 that gets the Transformers treatment. How cool is that?
R&D worked really hard to ensure that the color, details and feel are exactly the same as Mi Pad 2. They were challenged at turning such a slim 7mm tablet into a 3D robot, but they managed to do so with a 30-step folding assembly."
Weibo user Starscream and AC Toys user Toys2016 have provided In-Hand Images and a Pictorial Review of the toy.
Xiomi Soundwave even comes with a transforming minion, Ratbat, and a transforming weapon and a shield which certainly adds a good value for the price tag of $20