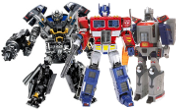 Griffin, the admin of OzFormers has posted some infromation from the Australian Toy Fair which includes word that MP Tracks will not be MP-25 and that 6 more Masterpiece figures will be released in Japan this year, after Star Saber with those toys being:
Gold Bumblebee (Goldbug) - July
Convoy re-issue - Assumed August
Tracks - Assumed August
Secret - MP25 expected to be announced shortly - September
New Sports Car - Oct
New Sports Car - Nov
Below you will find a quote of the full new report which contains further information on the Australian releases.
Photos later tonight, and the full report.... but some teaser info to get you interested and to send the global fansites into meltdown.

Generations Devastator on display with my Gen1 Devastator - BigW already signed up for June/July.

More JP Masterpiece coming this year - Gold bumblebee July, Convoy reissue, Tracks (not MP25), MP25 in Sept (I can't reveal name before TakaraTomy), and two new "sports cars" for OCT & NOV.

Platinum edition - Myer will have Seeker pack and YOTG pair... while ToysRUs will have Insecticon pack, Perceptor/Blaster, Trypticon, aaaaand.... Dinobots. YES, Gen1 Dinobots multipack which I hope is all five.

JP Stinger still for this month, only at TRU though.

GEN Slingshot & Wildrider don't exist (yet) for Hasbro Generations, but might next year as Combiners are going to be at least two years.

Leader Starscream for wave 4.

Hasbro MP Starscream is the second (MP11) version because fans wanted it.

Hasbro MP Bluestreak will be in July.

Toyworld's cheaper prices were indeed just introductory prices from Hasbro.

Loyal Subjects w3 should be out in the next month.

That's most of it. More later, probably after midnight though.

Go nuts...
Go nuts indeed!