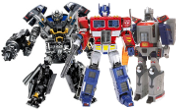 The latest news from the US toyfair covers Transformers Universe Galvatron, originally confirmed for a release at BotCon last year. The information is that Galvatron turns into a tank, has the G1 cartoon colour scheme in robot mode (purple) yet a grey tank mode. The toy also includes his orange cannon.
Next up was the showing of Transformers Animated Jazz, with the news confirming that reported by Minion, exclusively at Transformers At The Moon, after the UK toyfair. Also noted is that the bonnet of the car forms Jazz's chest.
Update: From Seibertron.com - Hasbro is now taking the Star Wars Transformers and combining them with the Marvel Transformers and they will now collectively be known as Transformers Crossovers .... In a conversation with Aaron Archer, Ryan found out that Hasbro has been working with the Paramount/Dreamworks for the past 3 weeks. The current designs that they have come up with have been submitted to Tomy/Takara.
Update 2:
Tformers are confirming that Transformers Animated Soundwave's guitar transforms into Lazerbeak and that The company (Hasbro) is currently trying to figure out a way to get the Alternators line out there again, but haven't pinned down how or yet at this point.
The Allspark are reporting that a "Deluxe Decepticon named "Oil Slick" is present, a motorcycle with a skull motif." here
TFWorld2005 have images of Transformers Universe Galvatron, taken on a phone. Here and here. As expected their server cannot cope with the demand, so please be patients. We'll not be mirroring their images out of respect.
Update 3:
Leader-class Bulkhead comes with a Headmaster toy, who can be made to "enslave" any other Leader toy with a cry of "Ownage! Total ownage!" - Report by The Allspark (see link above) - GMT 22:14
Update 4
The Allspark are now reporting "Apparently Hasbro and Takaratomy have been considering several candidates for the next Masterpiece. Among the possibilities are Hot Rod, Grimlock, and Soundwave. They're also wondering about combiners for the upcoming 25th anniversary."
In related news The Transformers Collector's Club Members Only section updates with exclusive Toy Fair coverage, including the first pictures of the Animated Activators and Robots Heroes Arcee VS Rumble!