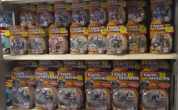 Thanks to Duckstar we can reveal that Toys R Us will be stocking the Transformers Dark of the Moon figures from next Monday, the 16th of May 2011.† Here is what he has said.

I was wondering if the UK release date was the same as the US over here. I emailed Toys R Us to see when they would be out. This is what I was emailed back:
Dear Mr Hughes, Thank you for your recent e-mail. I can confirm that the release date for the range in the UK is also 16/05/11.
I hope that this is of help to you.
Should you have any further queries, please do not hesitate to contact us again.