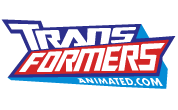 The 9th poll on TransformersAnimated.com has now finished and the votes have been counted.  The poll asked the question "Which Animated DVD will you buy?" and here are the results.
US release - 66%
UK release - 11%
Not buying - 10%
Other - 6%
Australian release - 6%
German release - 1%
No real suprises, though the poll did start before we broke the news that the UK release of Transformers Animated would not be in a complete box set.
The new poll is regarding the Transformers Animated comics from IDW and Titan Magazines and asked which of the comics are you buying, or plan to buy?
In a bug fix, the showtimes / TV schedule page has had its AJAX called fixed.