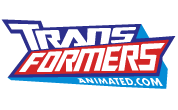 Transformers Animated.com has been updated with an image gallery for the Transformers Animated cartoon episode number 41, Endgame.
The episode, the first of a two part season finale, sees Megatron and the Decepticon's innitating their plan to clone Omega Supreme to create an unstoppable army.
In this episode we see the return of Arcee's memories, the return of the female Starscream clone (based on the Generation Two colour scheme for Smokescreen) as well as seing Starscream finally regain his body.