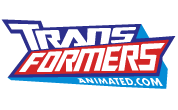 Have you got your ticket pre-registered for Auto Assembly 2010 yet?  No? Shame on you, you better get cracking as the latest two guests have just been announced.  Yes that's right in an interview with TFW2005.com Auto Assembly's own Simon Plumbe announced to the world that both Jim Sorenson and Bill Forster, authors of not only both Allspark Almanacs but also the wonderful Ark Compendiums which showcase the design art for much of the original series will be attending Auto Assembly 2010 right here within the UK.
There appearance at the event is sponsored by this very site.  Yes you read that right, Transformers At The Moon and TransformersAnimated.com not only are we bringing over Derrick J Wyatt but also both Jim Sorenson and Bill Forster!!
So if you are a fan of Transformers Animated this is the event to get to.  If you don't like Transformers Animated but you liked the Ark books, this is the event to go to.  If you don't like that either but you like Beast Wars, this is still the event to go to (Garry Chalk, Scott McNeil).  If you liked, and you know you did, the IDW Wreckers mini-series, once again Auto Assembly 2010 is the event to go to as Nick Roche will be there.  So what are you waiting for, head over to www.autoassembly.org.uk  right now and book a ticket before they sell out.