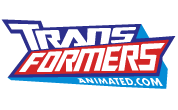 You will now find three exclusive videos from Transformers Animated Episode 17, Elite Guard, at Transformers Animated.com,, the premier Transformers Animated website, and Transformers At The Moon, the UK's leading Transformers Resource.
The three videos are :-
Jazz's Style - highlighting the cool Autobots' ninja skills and car mode
Megatron's New Plan - Detailing what Megatron wants to achieve by the end of Transformers Animated Season 2
Sari's Surprise - Porter C Powell throws more weight on the fire which speculates Sari's true nature and origins.
Edit:
The links have now been changed to link directly to the videos.