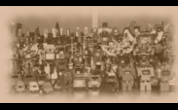 Trek posted this on our message board yesterday
While i was raiding Toys R Us in Croydon this morning for Half Price Armada I attracted the attionion of one of the sales assiatants.
Any way I got talking to him and he told me that Energon was going on sale within the next two weeks - POSSIBLY AS SOON AS 10 DAYS TIME!!!!!!
He also told me that Armada would contiune to be sold, even though Energon would also be on the shelves.
So this is major news as the toys could be out even sooner than anyoen expects. Read more
here