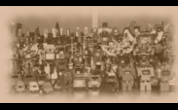 Hi everyone,
Just to let you all know that we will be at Memorabilia this weekend as Sven is having a stand selling a load of TFs all weekend. Sven"s going to have loads of great deals on BW and BM, as well as Armada, Takara re-issues and loads of other stuff.
As well as that you"ll also be able to book up for AA2004 if you haven"t already done so.
We"re hoping to be able to announce a SIXTH guest soon maybe even this weekend, and there is a very slim chance that we may even be able to announce a SEVENTH!
We"re working on details for AA2005 and we have already had feedback from some voice actors regarding appearances including some VERY big names.
Hope to see some of you this weekend and in three weeks at AA2004.
Simon and Sven
Auto Assembly 2004
www.autoassembly.org.uk
http://autoassembly.proboards7.com