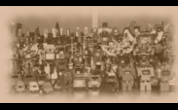 Web site Q & A for the week of March 1st
Q: Are there any plans to create a new form of Cyclonus for ENERGON like you did with Demolishor?
A: Yes, he becomes SNOWCAT in the ENERGON animated series. Q: Will Hasbro participate in conventions this summer? Will new toys be shown?
A: Hasbro will be unveiling new toys at the Official TRANSFORMERS Collector Convention in Chicago on July 31, August 1 & 2. We will be announcing additional plans soon. Sluggslinger is the new toy in hasbros Energon update
here