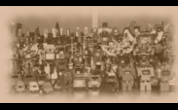 Hasbro"s Q & A has been updated (as it is most thursday afternoons / evenings). Here is this weeks questions
Q: In January 2003, several sources reported a Hasbro solicitation of a set of toys called "Stunticons", with members including "Wildracer" and "Dead End". Are these toys going to be produced?
A: These are not in our plan.
Q: Are there plans to release a Sunstreaker or AUTOBOT JAZZ in the TRANSFORMERS ALTERNATORS line?
A: We are still in the development stage for much of the TRANSFORMERS ALTERNATORS line as we investigate further licensing relationships. These two items are not currently in our plans at this time. You can read it
here
. Hasbro have also updated their Product Previews. You can see those
here