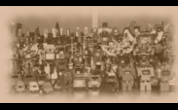 I-Primus emailed us about the dark sabre role play being availible in Woolworths priced at £14.99 in their X-mas cat.
Phill email us with an update on that Japanese toy stall. He hadn't managed to take pictures but he mentioned that the guy has the Universe toys in, namely Red Alert and Ratchet.
Lots of recent updates to OTFCC.com including reduced prices for the HOC Seeker builder set.