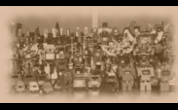 A bit late but we thoughts we"d comment on Hasbros Q & A of last week.
Feb 27, 2004
Web site Q & A for the week of February 23rd
Q: We have seen a Mazda RX-8 Transformer like robot on their website, is this a real product Hasbro will produce or only created for the Mazda website?
A: Yes, The Mazda RX-8 will be part of the TRANSFORMERS ALTERNATORS product line. More details will be available at a later date. The robot name for this item will be MEISTER. Meister is of course, the Japanese name for Jazz.