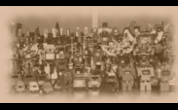 NEW YORK An elderly Queens man yesterday put three bullets into his actor son, just two weeks after the younger man came home from California to care for his ailing mother, police said.
Vincent K. Ford, known professionally as Keith Diamond, was eating in the kitchen of the family"s home in Queens, N.Y., when his dad, Vincent R. Ford, 81, opened fire with a .32-caliber revolver, hitting the actor once in the chin and twice in the torso, cops said.
Diamond was unconscious in the intensive-care unit at Mary Immaculate Hospital, where he was listed in stable condition.
To read the full story as reported by Fox New go
here