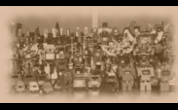 Transformers.com
has been updated with the latest Q & A
Web site Q & A for the week of April 5th
Q: It"s been noted that ENERGON MEGATRON will be considerably larger than his Super Link counterpart. Is there a particular reason for this discrepancy? Can we expect to see a smaller ENERGON MEGATRON here in the States in the near future?
A: Takara has made the smaller version for their market to support their needs. We are investigating opportunities to bring the small MEGATRON to the US in the future.
Q: Are there any more talks about a realistic transformers feature film coming out to theaters anytime in the near future?
A: We do not have an update at this time.