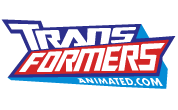 IDW have sent out the following press release regarding
Transformers Animated
.
Transformers: Animated Rockets from the TV Screen to the
Comics Page

New graphic novels from IDW Publishing will capture the groundbreaking animated series in print


San Diego, CA (December 5, 2007)-When the new Transformers: Animated series hits the airwaves in 2008, the TV screen won't be the only place fans can check out the latest heroics of their favorite robots: IDW Publishing is adapting the stories to the printed page using state-of-the-art animation capture and scripts from the episodes themselves.

In the upcoming TV series, fans will meet entirely new versions of both the Autobots and Decepticons: Set in the future city of New Detroit, the Autobots become the celebrated heroes of the city, constantly on guard against the Decepticon threat.

"These stories are a brand-new telling of the Transformers saga," says Chris Ryall, IDW publisher and editor-in-chief. "The setting is on a future Earth, with a range of new characters, and some familiar faces as well, all updated for the 21st century and appealing to all ages."

Transformers: Animated Vol. 1 will hit shelves in January to coincide with the debut of the series, and will tell the story of the show's entire 70-minute pilot. Each subsequent volume will include two complete stand-alone episodes of the series.

--------------------------------------------------

ABOUT IDW PUBLISHING

IDW PUBLISHING is a division of Idea and Design Works, LLC, a revolutionary creative service company with a wide range of clients. Among its best-selling titles are Hasbro's THE TRANSFORMERS; Paramount/CBS's STAR TREK; Fox's ANGEL; Konami's METAL GEAR SOLID; and Peter David's FALLEN ANGEL. IDW's 30 DAYS OF NIGHT film from Sony Pictures was released in October 2007 and was the #1 movie in its first week of release. IDW has other films in development at Dimension Films and Paramount Pictures as well.