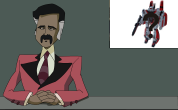 Hasbro have filed for two new
trademark applications
with the USPTO and they are certainly interesting ones.
The first application number 76674443 for
ELITA-1
! A character that was introduced in the original cartoon series and was only released as a statue in Japan by Axis.
The second is application 76674442 for
SLAG
. This is interesting as it was previously thought that Hasbro would not file for trademarks of dictionary words as these can be hard to get registered. Both marks are in the toy category, so it will be interesting to see if and where they are used.