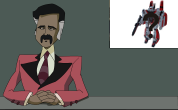 Hasbro have filed for 4 new Transformers related trademarks with the USPTO. You can view all of the details in our
Transformers Trademark area
which is updated constantly throughout the day by our dedicated news-bots, but here is the list of all of the new applications:
Could these be related to the third live action Transformers Film? Quiet likely. "Spark You Summer" sounds very much like an advertising theme similar to Transform Your Summer. "Autobot Alliance" is the Japanese name for the "Hunt For The Decepticons" subline (thanks to King Grimlock for pointing that out) whilst "Destination Earth" remains uncertain.

Transformers At The Moon - The world's leading Transformers trademark resource since 2005­.