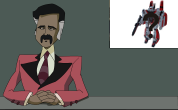 Hollywood Reporter have an update on the Hasbro Inc Vs ASUS lawsuit that was recently filed in LA regarding ASUS upcoming Laptop / Tablet hybrid. Hasbro started taking legal action last month against Asus Computer International on the grounds that ASUS computer threatens to "undermine the decades of time and millions of dollars" that Hasbro has invested, including on the Optimus Prime character. They quote the New York Times in their statement which once stated that [Optimus Prime was the] "toughest robot in the nerd universe," as well as it's licensed Transformers Prime TV series.. This has now prompted ASUS to response saying that no one will confuse a computer with a toy like. Their full statement was:
"Although Hasbro refuses to disclose what the merchandise is that is to be sold in March 2012, it most likely will be more toys and games like the classification under which it was filed—again creating no actual confusion with ASUS tablet computers. Hasbro's claim that consumers are growing increasingly confused with each day is false and unsubstantiated. Further, a cursory glance at the website advertising by ASUS and Hasbro evidences the different and non-confusing use by ASUS of the word "Transformer" when used to describe tablet computers, versus Hasbro's Transformers mark used to sell robot toys."
This is not the first time that Hasbro have caused legal waves:
In 2008, Hasbro sued two Indian brothers who introduced a Facebook application, Scrabulous, which let its users play an online simulation of the popular board game Scrabble.
In 2010, Hasbro sent a cease-and-desist letter to the Senate campaign of Sharon Angle, saying the candidate never received permission to use the rights to Monopoly for its "Harry Reid Amnesty Game" website.
Last month, Hasbro sent cease-and-desist letters to a Swedish-based website called PonyArchives.org, which catered to adult male fans of the 1980s TV show, My Little Pony. The fierce IP protection drew a strong rebuke from the leader of website, who wrote, "Today we learned that Hasbro, are no real bros. They are indeed proper w#$%ers."