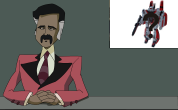 In a direct followup to our
Trademark Progress Upates
on the 19th November many of those Trademarks have been updated again. Here's is the latest batch of
Transformer related Trademarks
to be updated by the USPTO.
Incase you wondered what those status' mean, here's some definitions.
"Approved for Publication of Opposition" means that the the USPTO have approved what has been submitted so far, and that the mark will be allowed to be published for opposition. The USPTO normally say to allow two months for the mark to be published for oppoisition. Assuming there are no successful challenges, or that the USPTO do not change there mind, it is after this opposition period that the marks can become registered.

"Non-Final Action Written" means that a letter from the examining attorney has been sent. The letters is either requesting additional information and/or making an initial refusal for the application of the specified mark. It is not a final rejection decision.