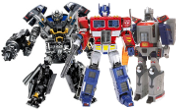 The latest issue of the Japanese hobby magazine Figure King (issue 134) is now out in Japanese stores and Snakas has written his usual round-up of the contents on his Blog.† For those who can't read Japanese below is an English summary of the entry.
The Revenge of the Fallen toys for Optimus Prime, Ironhide, Bumblebee, Soundwave and Starscream are all shown.† The Bumblebee figure is described as being the "general release" camero this time as oppose to the concept that the figure was based on for the first live action movie.
Transformers Henkei Smokescreen is features in this months magazine along with an article entitled "25 years of Transformers" which includes drawings of Henkei Starscream, Red Alert, Smokescreen and others.† The article ends with the words "The End" suggesting that the Henkei line will indeed end after the release of Smokescreen.