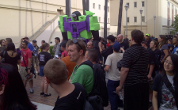 TFNation issued the following release on Saturday evening announcing that tickets will go on sale to the UKs newest dedicated Transformers show at noon this Friday!
TFNation shall be launching a brand new website which runs over HTTPS with an extended validation certificate meaning that not only is all traffic on the website encrypted but that the company behind it, TFNation Ltd, has also been checked to ensure security and safety. The new website, which is set to be revealed at the same time that tickets go on sale, fully supports mobile and tablet devices and has was designed by half of the Transformers At The Moon team.
Here is a copy of the full press release
Transmission_Initiated
TransmissionID: 000013
TFNation_2016
Operation: Ticket Sales
We are pleased to confirm that tickets to TFNation 2016 will go on general sale from 12:00pm (GMT) on Friday 15th January 2016.
The booking process is swift and easy:
PHASE ONE - BOOKING
Tickets will only be sold at www.tfnation.com
The TFNation crew has invested in a custom-built website which uses the latest booking technology and SSL certification to ensure your booking is simple, safe and secure.
PHASE TWO - PAYMENT
Payments will be accepted via TFNation's 'Paypal for Business' platform.
This means you can choose to pay with your credit or debit card, or your existing Paypal account, giving you flexibility.
PHASE THREE - CONFIRMATION
TFNation refuses to wait around. Confirmation emails will be sent to you the same day you book - usually within 30 minutes. You will also be able to access your booking history and tickets at any time via our website. There you can either print, or download your tickets to your smartphone to bring to the event.
PHASE FOUR – HOTEL ROOMS
Once you have paid for your ticket, the website will automatically give you the option to proceed to the Hilton Metropole's reservation page. This page has been created just for TFNation ticket holders, giving you a great discount on regular hotel prices. You can reserve now and pay later, so there is no reason to wait.
We will send a further transmission regarding accommodation shortly, but we do wish to stress that hotel rooms are strictly subject to availability. It is important to remember that TFNation is a first year event and therefore our bedroom quota is limited – if the convention proves to be successful, we will hopefully be able to reserve even more bedrooms in future years.
Thank you for your support. We look forward to welcoming you to our new website this coming Friday!
Further transmissions to follow.
TFNation
Where All Are One
End_transmission