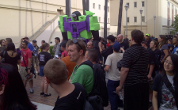 Fun Publications have announced the dates and location of BotCon 2016
BotCon 2016 to be held in the beautiful waterfront city of Louisville, Kentucky April 7-April 10
BotCon, the officially licensed Collectors' Convention for Hasbro's legendary TRANSFORMERS brand, announced today that next year's award-winning convention will be held at the historic Galt House, a waterfront hotel right in the heart of downtown Louisville, April 7 thru April 10. In 2016, fans from across the world will be able to celebrate another exciting year of the TRANSFORMERS brand at North America's largest TRANSFORMERS fan convention! You can make your hotel reservations now at BotCon.com.
In the coming weeks, fans and collectors will be able to register for BotCon 2016 through the BotCon.com online registration system. Fans and collectors who register for BotCon as a Primus package holder will receive a five-figure TRANSFORMERS convention set, admission to the Friday private sales room experience, priority seating at all panels and seminars throughout the weekend and admittance to the Saturday night Casino Night and Awards party. Finally, Primus package attendees will also receive a special bonus TRANSFORMERS figure to go along with their convention box set. General Admission for non-registered guests will be available on Saturday and Sunday only.
For all the information regarding the BotCon show activities, hotel updates and the exclusive figure offerings, remember to stay tuned to BotCon.com.