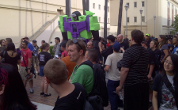 Hasbro has finally confirmed their combined universe cross-over set for SDCC is real! We first heard rumours of this set back around February but it only today that Hasbro have confirmed that it is happening with the release of a series of images of the SDCC 2017 Shared Exclusive set called Revolution Toy Package. The set features:
Jetfire from Transformers
Roadblock from G.I.Joe Renegades
Matt Tracker from M.A.S.K
Action Man from Action Man
Rom The Space Knight
Dire Wraith from ROM
Micronauts from Micronauts
Leoric from Visionaries
With the exception of the Micronauts and Jetfire the rest of the figures use G.I.Joe 4" figures as their base.