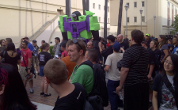 The Transformers Collectors Club have revealed that the theme for this years Botcon, Botcon 2014, will be Pirates Vs Knights.
The BotCon 2014 reveals begin this issue! Pirates vs Knights is the theme, and a selection of amazing characters and molds are what fans will get at this years 30th anniversary celebration! Issue 55 will give fans there first look at Cannonball, Captain of the Star Seekers! Stay tuned to BotCon.com for more details!

In addition to the BotCon reveals, we kick off our "Thrilling 30" coverage with two great pieces, an article by Jim Sorenson and an interview with Flint Dille. We also have the Prologue to the 2014 Club story "Alone Together". The story will focus on Rampage and Transmutate in a whole new way, in a VERY different universe. We think you will all enjoy this brand new take on these classic characters.