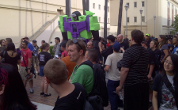 Pete Sinclair, best known for working with both 3H and Fun Publications on their Botcon shows, has announced that he is running his own convention this summer called Pete's Robot Convention. Whilst the website, petesrobotcon.com is currently offline, you can find out more below.
The Summer Robot Convention lives on with Pete's Robot Convention this June 23-24, 2017 at the Cincinnati Marriott at RiverCenter!
Cincinnati, OH –Dating back to 1994, the Summer Robot Convention has been a time-honored tradition for fans of all ages and we are thrilled to have the opportunity to keep that tradition going. Pete's Robot Convention makes its inaugural launch this year, taking the Robot Convention concept back to its roots with a renewed focus on the vendors and the thousands of amazing robot toys they will have for sale, while also providing a great venue for fans to come together and make it the social event that we've all come to enjoy. And like we said, there will be thousands of robot toys for sale!
We are offering Pre-Registration for anyone who wants to take part in both the Friday evening activities as well as the Saturday show. Click the Pre-Registration link today to sign up for only $59.75! Check out everything you get for this low attending price! We will also be offering at-the-door admission. Teens and Adults are $10. Kids 12 and under are FREE!
The Transformers, Gobots, Voltron, Robotech, Exo-Squad, Power Rangers, Z-Bots, Commandrons, TriBots, and classic characters from across the last 50 years… Fans of all these great properties and so many more are all welcome at Pete's Robot Convention!
Please visit PetesRoboCon.com for all the details and additional info. We look forward to seeing you this summer at Pete's Robot Convention!

About Pete's Robot Convention
The organizers behind Pete's Robot Convention have been a part of the Transformers and general sci-fi genre for over 30 years. Co-organizer Pete Sinclair was part of the former Official Transformers Collectors' Convention BotCon in various capacities since its inception in 1994, with his last role being that of a Senior Marketing Manager for licensee Fun Publications, tasked with the marketing of both BotCon and the Official G.I Joe Collectors' Convention GIJoeCon, the former Official Transformers Collectors' Club and the Official G.I. Joe Collectors' Club, developing exclusive product and fiction for each. © 2017 Pete's Robot Convention. All right reserved.