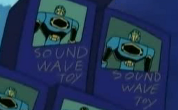 Toy News Magazines
Job of the Week is for a Senior Brand working at Hasbro UK on Transformers.  Here is the spec:
Hasbro is looking to recruit a senior brand manager for its Transformers range.
The firm is looking for someone to take the reins on the Transformers: Revenge of the Fallen toy line is released alongside what is expected to be the biggest summer movie of 2009.

Transformers: RoTF is expected to build on the success of the movie year 2007, when Transformers became the number one boys toy and licence.

Hasbro is looking for an exceptional individual who can not only work closely with Paramount pictures, UK retail, Hasbro sales teams, media and PR agencies in the UK but also support a global marketing drive.

Transformers is not just a movie line: the range also consists of Universe and Animated lines, contributing to its 25-year success.

The ideal candidate will have significant relevant experience, ideally in a kids or entertainment role.
Experience in budget management is required as the role has a large A&P. The successful applicant will also need to have strong management skills to enthuse the sales team.

Hasbro is looking for somebody with trade appreciation of the UK retail scene and a person who is self-motivated, highly organised and ambitious with high energy.

Applicants for the role should have a long-term strategy and short-term pragmatism outlook and have a knowledge of media, creative, promotional and PR agencies.

Finally, the right person for the job will need to be a team player.

Please forward your CV and covering letter to careers@hasbro.co.uk