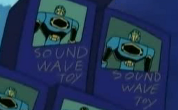 As you know we like to keep you up-to-date with the NPD sales figures so you can see how Transformers is fairing compared to other toy lines. Well we can now bring you information on just how Transformers performed in Week 51 of 2007. That's the week before Christmas.
In terms of Monetary Sales, the Transformers Movie Deluxe toys was the 6th best selling toy that week and the best selling action figure.
In terms of actual units sold, however, the Transformers Movie legends tops the Action Figure chart and was number 3 on the overall toy sales chart behine only the Hot Wheels Car Assortment and the Cars Assortment. It fended off Doctor Who into 5th position. The Transformers Movie deluxe toys were 8th, one higher than Ben 10.