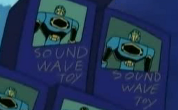 Yesterday it was announced that Disney have purchased Marvel Entertainment for $4 billion.  What does this have to do with Transformers, you may ask.  Well both companies already have deals with Hasbro or Takara for cross branded figures. It may also affect the direction of the next cartoon series of Transformers by throwing a spanner in the works of Hasbro Inc.'s joint venture with Discovery Communications to create a TV network. According to Wells Fargo analyst Tim Conder, Hasbro recently extended its contract with Marvel until 2017. &quto;We do not view this transaction as having any material negative implications from this perspective," he wrote. The Associate Press speculate that the decision might affect Hasbro and Discovery's TV network joint venture, since it makes it less likely the network will offer shows centered around Marvel characters.
Now, "it is highly likely that Disney will want to retain Marvel-related programming content for its own channels of distribution," Conder noted.

He kept his "Outperform" rating on the Pawtucket, R.I., company's stock. Shares of Hasbro fell 12 cents to $28.21 during morning trading.