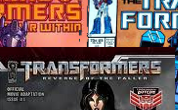 Titan Magazines have issued the following press release regarding issue 14 of the UK exclusive Transformers comic

If you thought issue 13's action packed culmination of stories couldn't be topped, then be prepared for a whole new onslaught of robot mayhem in issue 14, on sale this Thursday! Issue 14 is all about new beginnings as we kick off not one, not two, but THREE brand new, six-issue long stories!

'Aftermarth' sees the Autobots re-grouping after winning the battle, but it soon becomes apparent that the war is still raging and they seem to have a new enemy to contend with.

'Megatron Origins' offers you the chance to travel way back into the mists of Decepticon lore to discover Megatron's previous incarnation and shed light on how he became the lovable rogue we know today.

And finally, we're going all prehistoric with the first part of Beast Wars! Turn back time 70,000 years, an ancient race of TRANSFORMERS has landed on earth and imitated the monstrous beasts they encounter – the heroic Maximals and evil Predicons are born. And BEAST WARS begin!

Phew! Plus, we profile Grimlock, bring you all the latest Top Gear and Star Scream is let loose on the letter bag again. What more do you want? Great competitions? We've got those too!

Don't forget to forward this to all your TRANSFORMER fan friends and check out TRANSFORMER Comic, on sale Thursday 17 July!